CAPABILITIES
Breeder's Choice sources only the highest-quality raw material. We are proud to say that our products are made in the USA*, in our own plant, right here in Southern California. We have the unique ability to create our own dry raw material blends and fresh meat purees for custom formulations. These products can consist of meat first, grain-free, LID, and meal-based formulas.
*Made in the USA with domestic and foreign-sourced ingredients. Specific country of origin for ingredient sources can be evaluated on request.
QUALITY
The Breeder's Choice quality-control team ensures every ingredient is tested before it's ever added to our pet food. The finished product is tested by a third-party lab and held on a positive release protocol until our standards are confirmed. Breeder's Choice Pet Foods has implemented a globally recognized Quality Assurance Program to produce safe and high-quality products for our customers and their animal companions. Our quality system is recognized as SQF Level 2 compliant and certified by a third-party. Our production floor supervisors and quality assurance team members are Preventive Control Certified Individuals (PCQI) and are trained in FDA's Food Safety Modernization Action (FSMA) regulations for pet foods to produce safe and high-quality products.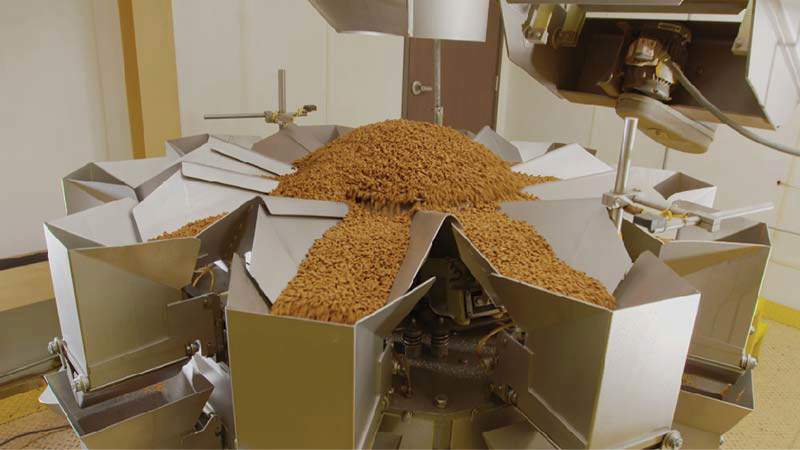 EXPORT
Being West Coast-based, shipping international is cost-effective for ourselves and our co-manufacturing partners as freight costs continue to rise.
3PL
In partnership with our sister company, Breeder's Choice can provide 3PL services, domestic storage, and product shipping throughout the United States and internationally. Our warehouse in Ontario, CA is a short distance from the plant and offers storage services, container shipments, labeling, and pick and pack services.
CUSTOM MEAT GRINDING
(FRESH MEAT PUREES)
We at Breeder's Choice have our own state of the art in-house meat grinding facility. The process of pureeing our own fresh meat ensures quality, reduces variations, and creates a finer grind than outsourced slurries. We can source and grind exotic meats and meet high inclusion rates.
Our extruder is a high-quality/high output extruder run at slower speeds to focus on quality, not quantity. We can choose from any one of our 20 specially designed die/knife combination to create a specific kibble for your dog or cat. We can also create custom dies to meet customer specifications.
MULTIPLE PACKAGING OPTIONS
The product is sent to one of three packaging lines. One line is a Form Fill Seal (FFS) that is used to create samples for the sales team to assist in building sales. The second line is a combination scale that can fill 2.5 lbs-10 lbs. This line can case pack in corrugate or bale in plastic bags depending on customer requirements. The third line is a high-speed line that can fill 11 lbs-50 lb bags. All lines are equipped with foreign material screeners, metal detection, and scales to ensure the product meets the high-quality demand of Breeder's Choice Pet Food. The bags are automatically palletized, wrapped, placed on quality hold in the warehouse until final results are obtained from a third-party lab.